Reviews
Some recent feedback
Don't take our word for it – we live here and are biased! Here are a few of the comments that our guests have made. We aim to make everyone's stay enjoyable and relaxing, so we hope you enjoy your stay as much as these guests did!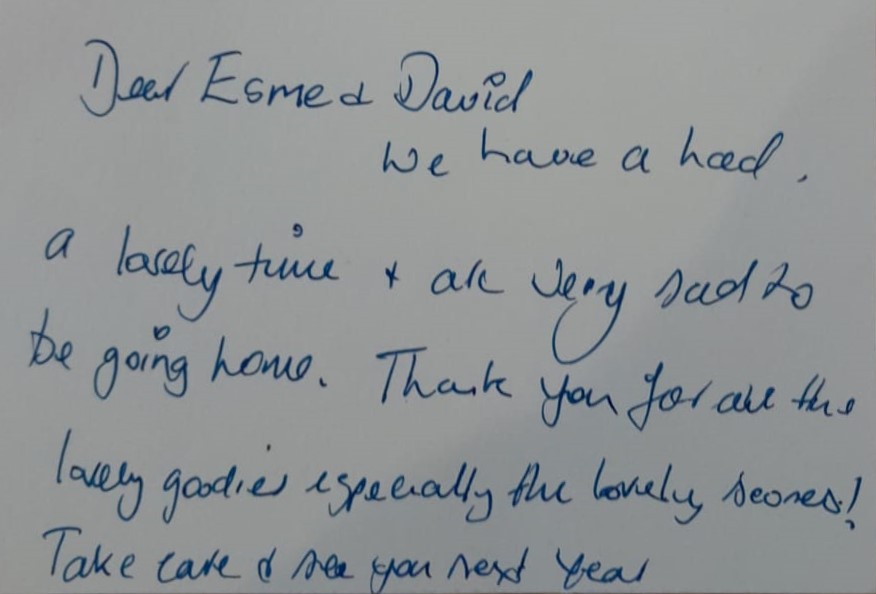 Thank you very much for the lovely cake, scones, and goodies. We are going home with an extra inch on our tums!!
We have had a great week and Buzzard Watch is one of the best places we have stayed in. It is much appreciated and a lot of thoughtfulness gone into the comfort of folk with disabilities.
Keep well and safe
Thank you again.
A lovely thank you card from some recent guests who stayed in Buzzard Watch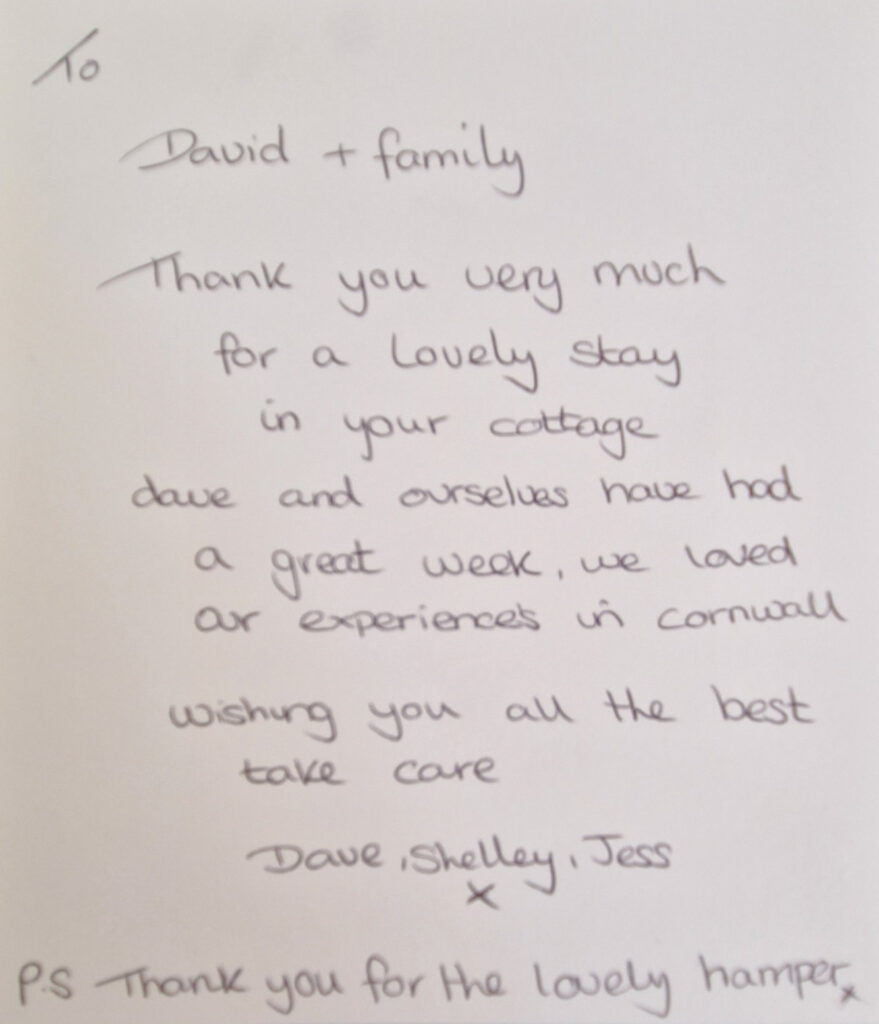 Amazingly accessible
Having booked a holiday in Buzzard Watch we were so relieved when we arrived to see that I was so accessible. I would even go as far to say that it far exceeded our expectations. As a fulltime wheelchair user we have stayed at places that have said that they were accessible only to be let down on arrival. This place certainly was completely accessible with such a good range of equipment it meant that we didn't have to bring any of ours with us. The wetroom is amazing and we really loved having breakfast out on the decking with the birds singing and the sheep grazing in the next door field. We also had a look at the bigger cottage called Valley View before we left and this too is just as accessible as Buzzard Watch and we will definitely return with the rest of the family as it's really well located to get to so many lovely places in Cornwall. Well done David & Esme you have created a wonderful place for disabled people to come on holiday – nothing was too much for them and they made our holiday a really great one.
5* First time visitor
We had been let down badly by Cottages.com and had less than two weeks to find accommodation, fortunately we stumbled across Treworgans. I called David to enquire and immediately knew this was the place to book. Easy to book on their online site .We arrived on a lovely day, a nice welcome pack on arrival with a cake baked by David's wife (delicious). First of all the cottage is on a wonderful farm and is really private. Open plan living room, kitchen/diner with patio doors out to decking. Two double bedrooms that have en-suite, main bedroom has patio doors to decking. Sandwiched between two small villages with pubs and shops it is ideal to explore Cornwall, you are at most 20 minutes from a beach and 15 minutes from Truro. I would and have recommended this place to family and friends and to all who read this review.
Book if you can, you will not be disappointed.
5* Tripadvisor Review
A truly accessible place to stay
What a super place . My disabled husband and I spent two weeks in Buzzard Watch.
It was so well equipped and the wet room totally accessible. We have been to several other disabled cottages but this was by far the best.
From the moment we arrived and were met by Dave the owner we felt very welcomed there was a generous basket of goodies waiting for us including a cream tea,home baked cake,eggs milk and lots more.Nothing was ever too much trouble.
The accommodation was excellent and my husband was so well catered for. Situated in very peaceful surrounding we had a lovely holiday
The care agency provided excellent service and unbeknown to us suggested to Dave that a certain piece of equipment might be useful for David my husband. When we returned that day it was waiting for him in his bedroom …………what service!!!
We have no hesitation recommending this holiday home for disabled people and their families .
5* Tripadvisor Review
Just returned from a week in valley view cottage, as previously mentioned it is so good to find disabled accommodation so well equipped takes all the hassle out of trying to hire or take your own equipment with you.
The cottage is on two levels with a large lounge / kitchen area and one bedroom with the level access shower, the other two bedroom are down the stairs both with en suite bathrooms.
The location is very central with easy access to all the major attractions and if like us your into your garden then Heligan and the Eden Project and many more beautiful gardens and the coast are just a short journey away.
5* Tripadvisor Review
Great accommodation
We stayed in Buzzard's Watch, the 2 bedroom cottage for 1 week from 5/5/18. We arrived at 9.30 pm a couple of hours later than anticipated. On the kitchen table there was a basket containing homemade scones, cake and farm shop goodies – a lovely touch.
Despite the time, David came over to welcome us. Throughout our stay nothing was too much trouble. The facilities and equipment used were excellent. The location is good especially since we were in Cornwall to see family who live in Penryn just 30 minutes drive from Ladock.
This was our first experience of taking a holiday in the UK since my spinal cord injury resulted in tetraplegia. Treworgan's Farm Holidays are reasonably priced , a bonus as I need 2 carers to accompany me ( and my husband). The facilities / equipment are excellent. We can't recommend them enough.
5* Tripadvisor Review
We returned for our 3rd visit in Buzzards Watch and stayed for a week from 12 May 2018. We can't praise the cottage enough. It has all the equipment and space needed and Dave and family are most helpful. The recently refurbished wet room is excellent and of course the basket of food waiting for guests on arrival is most welcome. Highly recommended for a lovely holiday in Cornwall.
Check our latest availability, offers and prices
If you would like to book your stay in the heart of Cornwall then please do take a look at our latest availability. If you have any questions about our cottages and if they're suitable for you, your loved one or relative then feel free to give us a call on 01726 883240 or 07762 173860 and we'll be happy to answer any questions you have.
Check Availability