Treworgans Wheelchair Accessible Holiday Cottage Access Statement
Treworgans Farm Holidays
Treworgans Farm Holidays comprise of two specially converted and tastefully furnished cottages. Buzzard Watch has two bedrooms and sleeps up to 4 people and is all on one level while Valley View with three bedrooms sleeps up to 6 people and has the accessible level comprises of an open plan kitchen and living room and a large accessible bedroom that has an ensuite wetroom the other two bedrooms are accessed via stairs. All doorways to accessible rooms are a MINIMUM of 770mm (most are over 800mm wide). All showers are wet-room style with NO step into shower area, kitchens have accessible hob and sink and 850mm wide x 350mm deep and 700mm high clear space under for wheelchair access. Light switches and electrical sockets at 1000mm.
Available for guest's use are ceiling hoists and electric mobile hoists which have the same sling attachments as Oxford type hoists (please bring your own sling). Both of the hoist options have a lifting capacity of 160kg.
Electric 4-section profiling beds which can either have a foam pressure mattress or a Softform Active 2 dynamic air mattress.
Wheeled reclining, self propelled or attendant propelled wheeled shower/commode chairs as well as legged shower-chair are available.
We can  also provide riser recliner and drop arm high back chairs, bed height raisers, toilet seat raisers and a kitchen perching stools. Other more specialist equipment can he hired from a local supplier.
Wi-Fi is available in the cottages.
Pre-Arrival
Large print booking forms, access statement, directions 'how-to-find-us' and other information is available.
Bookings can be made by telephone, post or e-mail.
We are a mile from the nearest village which is well supplied with shops.
The access statement is available on our website.
Arrival & Car Parking Facilities
For the last mile we suggest you follow the directions you will be sent, rather than relying on a sat-nav as there aren't many road/direction signs and certainly no street-name signs.
Private parking is available by the ramp to the front door of your cottage.
We usually will greet you on arrival and show you around your cottage, but if we are not around when you arrive please make yourselves at home and we will come and welcome you on our return.
Laundry
Each cottage is equipped with a washer/dryer, washing line, pegs, a drying rack, iron and ironing board.
Bedrooms
Beds have a mattress height of 530mm and 190mm clear space beneath for mobile hoist access. Bed height raisers are available by request. The rooms can either be made as twin or super-king sized, or a fully adjustable 4 section electric profiling bed with either air pressure mattress or foam pressure mattress.
Wheelchair turning circle of 1300mm.
Doors have 780mm clear opening.
Close pile carpet flooring which is excellent for wheelchairs.
Light switches at 1100mm and electrical sockets at 900mm.
Shower-rooms & WC's
Each shower-room is wet room style with high specification non slip flooring fitted in the wetrooms and bathrooms.
Doors have 780mm clear opening.
Fully adjustable thermostatically controlled shower.
Wheeled and legged shower chairs are available, please enquire.
Basins have rims between 800mm and 830mm from floor level, quarter turn lever action taps and wheelchair access beneath.
Toilet height to top of the pan in Buzzard Watch is 460mm (18″) and in Valley View is 400mm (16″). Toilet seat risers are also available in 2, 4, or 6″ sizes.
Wheelchair turning circle of 1500mm.
Toilets have a drop-down support arm and side grab rail.
Light pulls are at 1100mm.
Shelving trolley on wheels.
Kitchens
Each cottage has a purpose designed fully fitted kitchen with dishwasher, washer/dryer, fridge/freezer, microwave etc.
The hob and sink have clear space under for wheelchair access.
Oven at low height with pull down opening door.
Combination microwave at worktop height.
Light switches at 1100mm.
Slip-resistant vinyl flooring.
Worktops at 900mm.
Outside
Both cottages have large level decked areas outside and are accessed directly from the cottages. Gentle ramped access is provided from the carparks. Both carparks are surfaced with concrete.
As mentioned previously, ceiling and portable hoists, wheeled shower chairs, bed height raisers, toilet seat raisers, high back chairs and kitchen perching stools are available for guest use without charge. More specialist equipment can be hired from a local company (see details below).
There is a 'no-smoking' (including vaping) policy in all of the buildings.
Mobile phone reception varies depending on network.
A child's travel cot and high chair are available.
Basic cleaning materials and a vacuum cleaner are provided.
There is a hairdryer in each cottage.
Automatic external lighting extends to the cottages and car park areas.
Our address is:
Treworgans Farm Holidays
Treworgans Farm
Ladock
TRURO
TR2 4QD
Telephone: 01726 883240
Mobile: 07762 173860
Email: info@treworgans.co.uk
Website: www.treworgans.co.uk
Hours of Operation
We welcome guests at Treworgans Farm Holidays 365 days of the year.
Emergency Contacts
In case of emergency please contact:
David & Esme – 01726 883240 or 07762 173860
Carers and extra equipment hire (items that we don't have ourselves) can be obtained locally.
Cottage Floor Plans
Floor plans for each of our cottages are below. If you have any questions at all about the layout or accessibility of our self catering cottages then please do give us a call.
Buzzard Watch floorplan (Sleeps up to 4 in two ensuite bedrooms)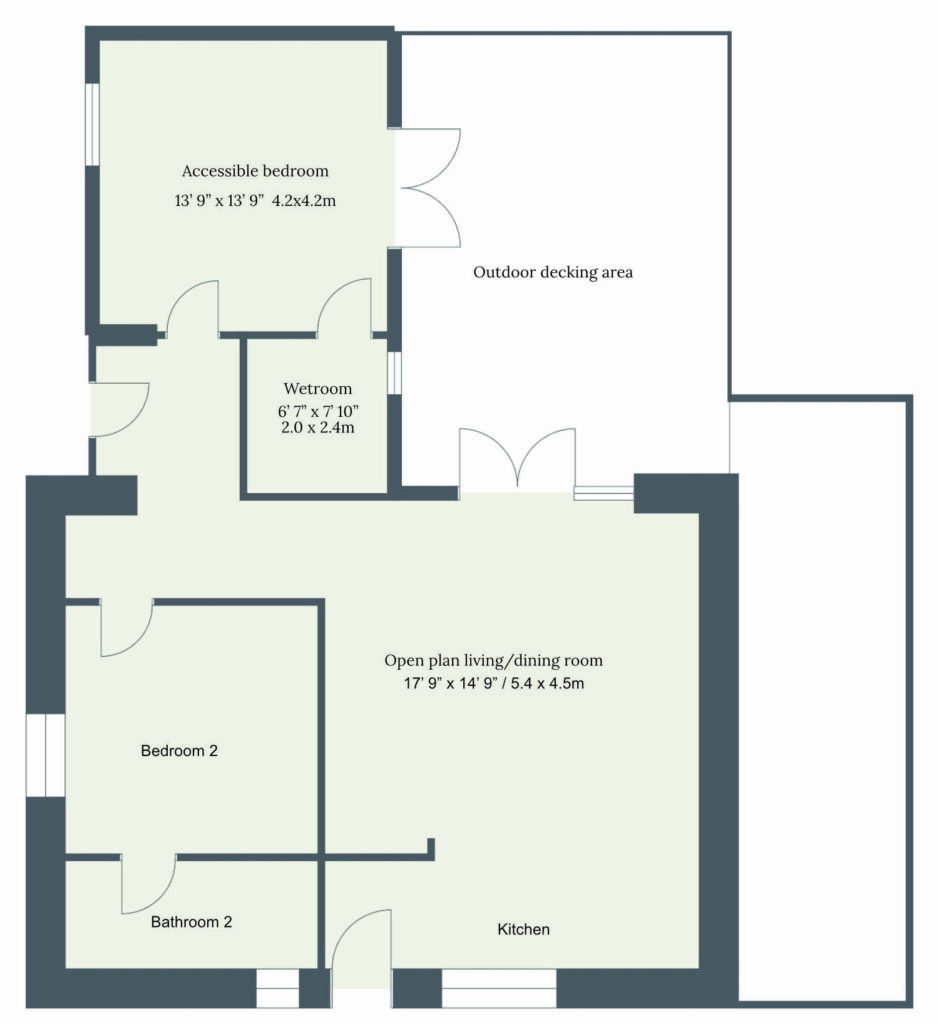 Valley View floor plan (Sleeps up to 6 in three ensuite bedrooms)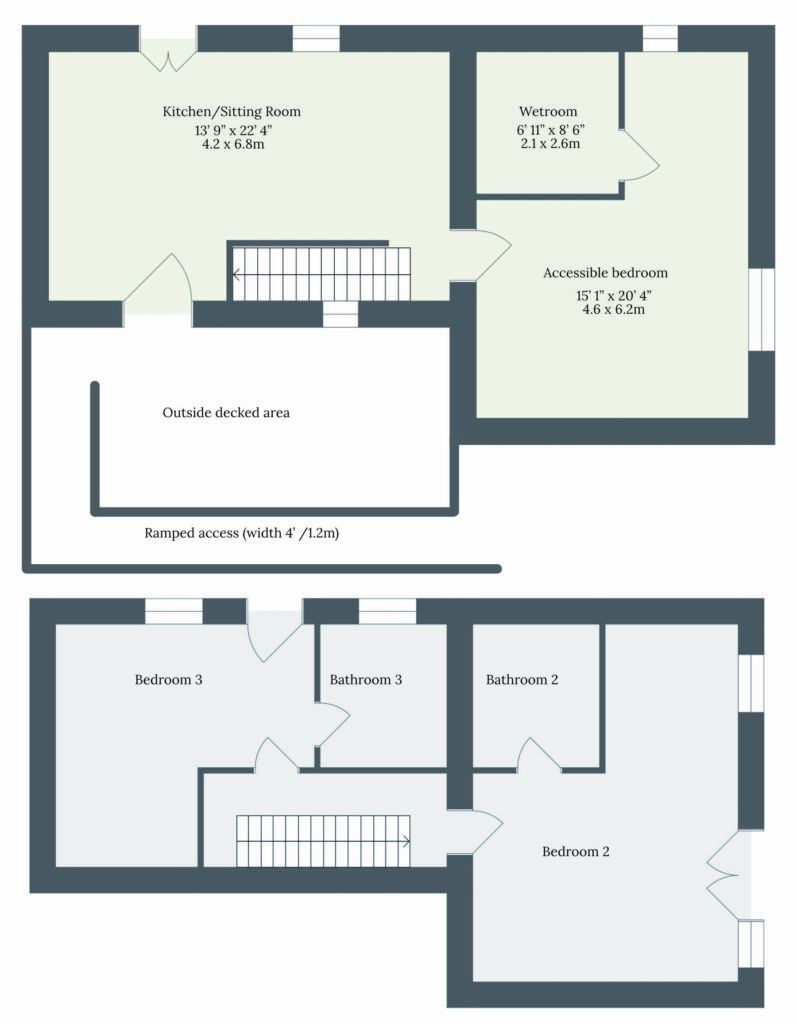 Check our latest availability, offers and prices
If you would like to book your stay in the heart of Cornwall then please do take a look at our latest availability. If you have any questions about our cottages and if they're suitable for you, your loved one or relative then feel free to give us a call on 01726 883240 or 07762 173860 and we'll be happy to answer any questions you have.
Check Availability